SOLD. - Passion Flower Necklace
Property of Lajju
Swarovski crystal, Czech firepolish crystal, seed beads
This piece is a red and cream colord version of my Passion Flower pattern. You can purchase this pattern here. This pattern also was the basis for my award winning 2012 Treasures of Toho piece. You can see the winning piece in the December 2012 Bead & Button.
SOLD. - Ammonite Pendant
Jasper, Glass, Ammonite Fossil, copper, lampwork glass, seed beads, rutile quartz.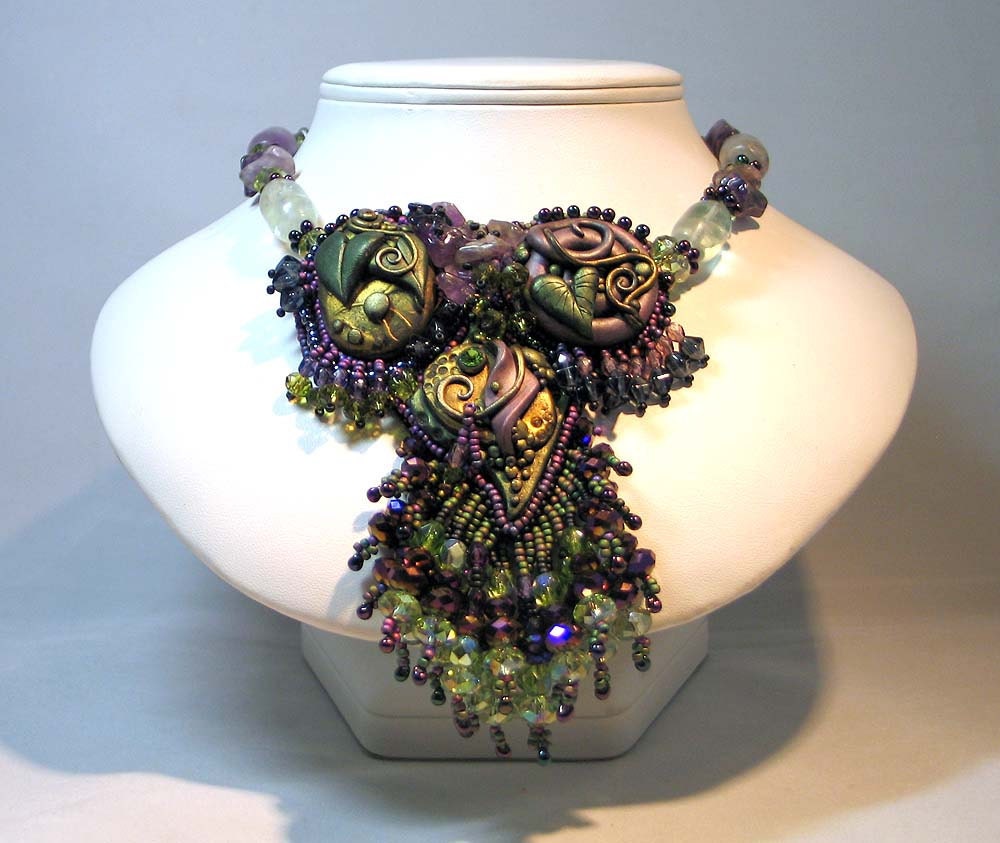 SOLD - Rainforest Treasure
Handmade fimo cabochons. I'm not sure of the maker, but they were done by an Etsy seller. Glass, fimo, swarovski crystal, chinese crystal, flourite and amethyst.
SOLD - Treasure Trove
Property of Tammara
Swarovski crystal, lampwork glass, seed beads, brass chain, Swarovski pearls
SOLD - Russia Bound Necklace
Pietersite, Lampwork Glass, Swarovski crystal, Czech & Japanese Glass. Crocheted & Beaded Rope is handdyed silk with clear beads over the top - you are looking at the color of the silk through the beads.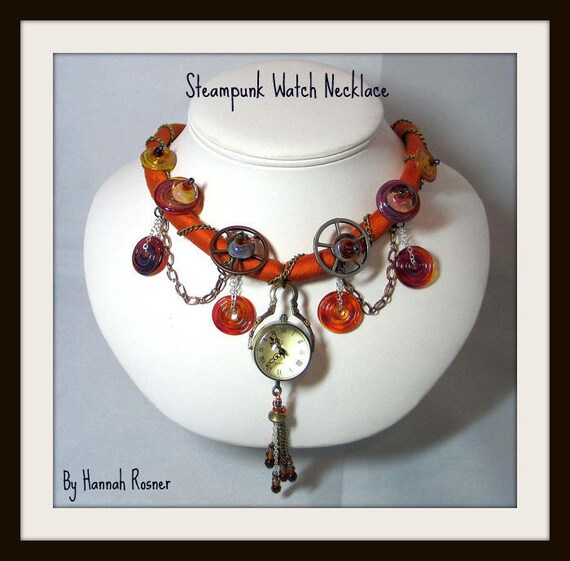 SOLD - Steampunk Watch Necklace


Lampwork and Chain Necklace is wrapped around a 1/4" silk cord. Embroidered with cogs and lampwork glass beads.
SOLD. Atlantis Necklace
Property of Tammara
Made of loads of Swarovski Crystals, Cubic Zircons, copper, freshwater pearls, Swarovski pearls, 24K plated gold charlotte beads and Japanese seed beads.
SOLD. Mermaid's Treasure
Lampworked Glass Crab Claw by Nancy Lawler. Glass cabochons by Catharine Weaver. Shells, Glass and Mother of Pearl.
SOLD. Property of
Courtney Love Cobain.
Jasper, Glass, Ammonite Fossil.